8.1 Release Notes
As we continue improving constantly, we want you to have the best user experience while using Contour.
Version 8.1 brings to you a fresh, modern experience which makes it easier to do business on Contour and simplifies the learning path for users. Corporates as well as banks get a new, refreshed user experience that helps them become more productive.
Along with a vastly improved UX, this release also contains security and bug fixes. It is requested that you upgrade at the earliest date possible.
User experience improvements
Documentary Credit Overview
You can view a summary of all versions related to a transaction on the Overview page. It consists of the Original Documentary Credit, each amendment, Presentation (when applicable) and messages related to that transaction. This helps you to easily track the progress of a transaction at a glance and access important actions.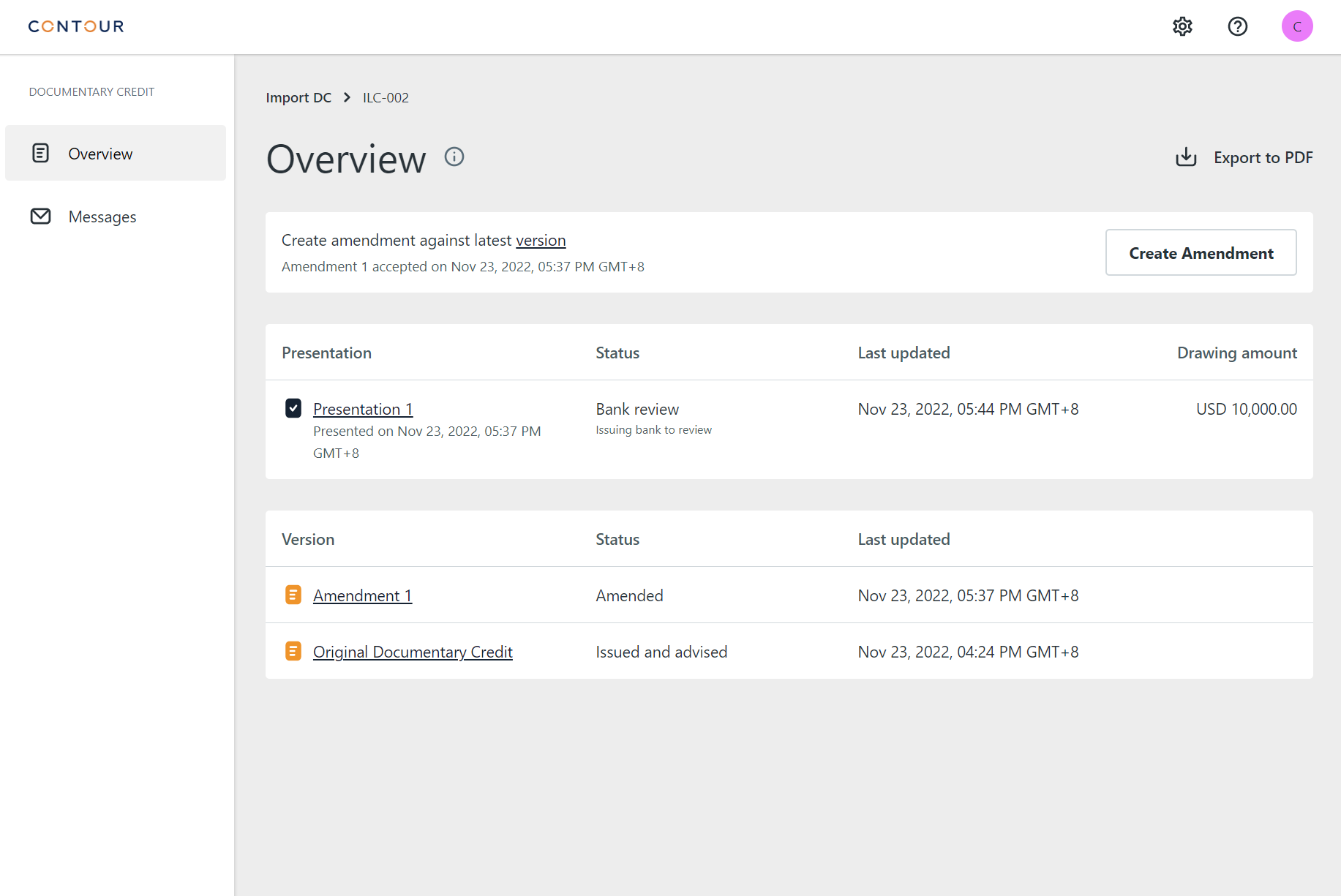 DC Application
Easily navigable, user friendly application form.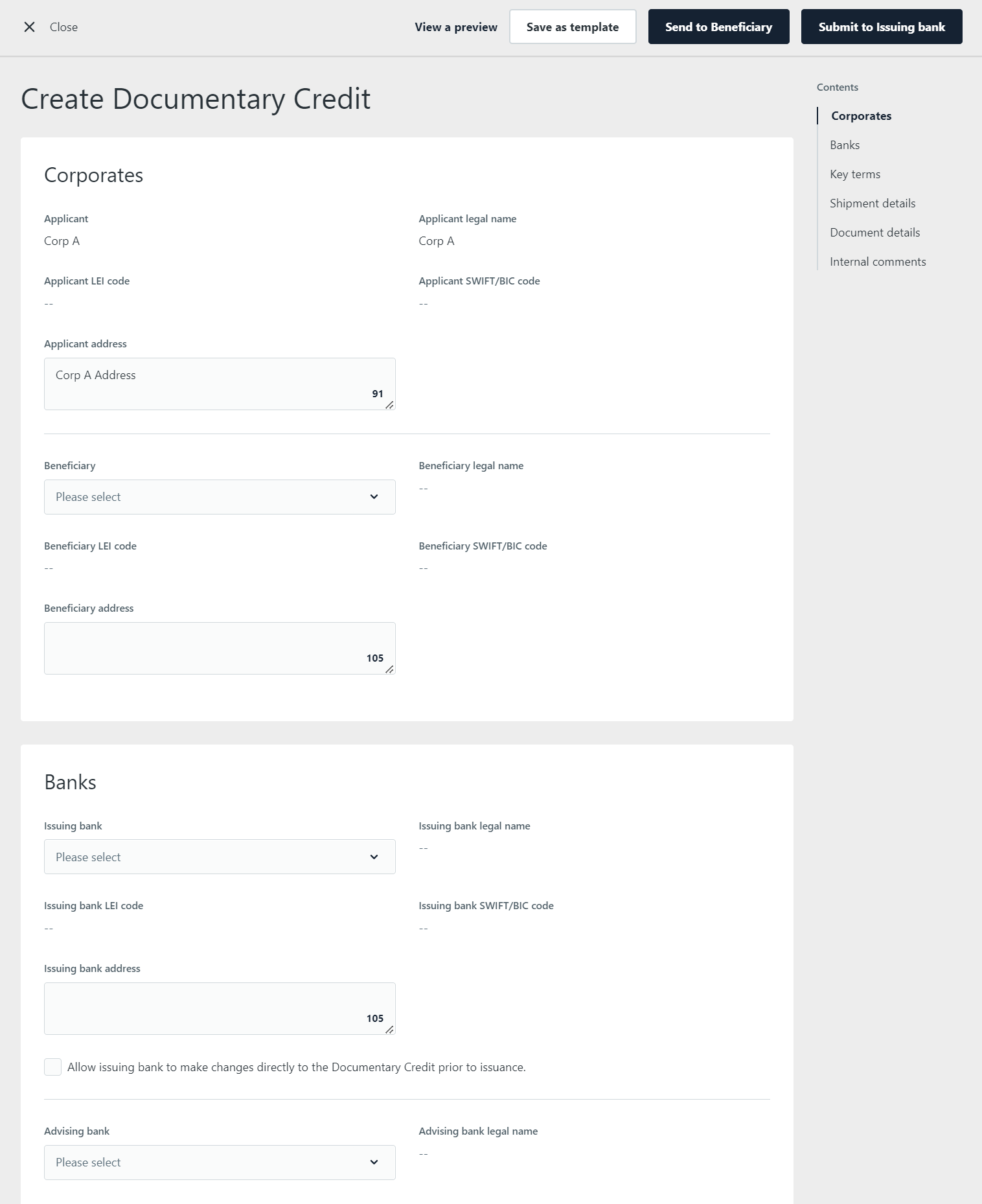 Field lengths
As you type, the system shows you how much space is left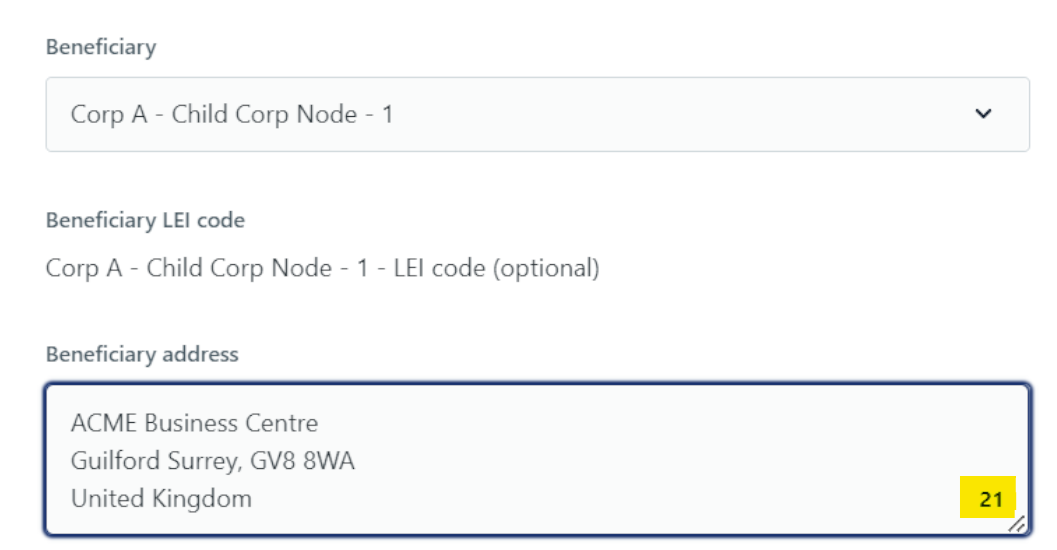 DC Amendment
Old values are striked out, to show you what has changed. The amendments will now reflects in real time as and when the change is made along with using the 'Track changes' feature toggled, you can see the amendment request with or without the old values.
Real Time changes now will appear as below while any field is changed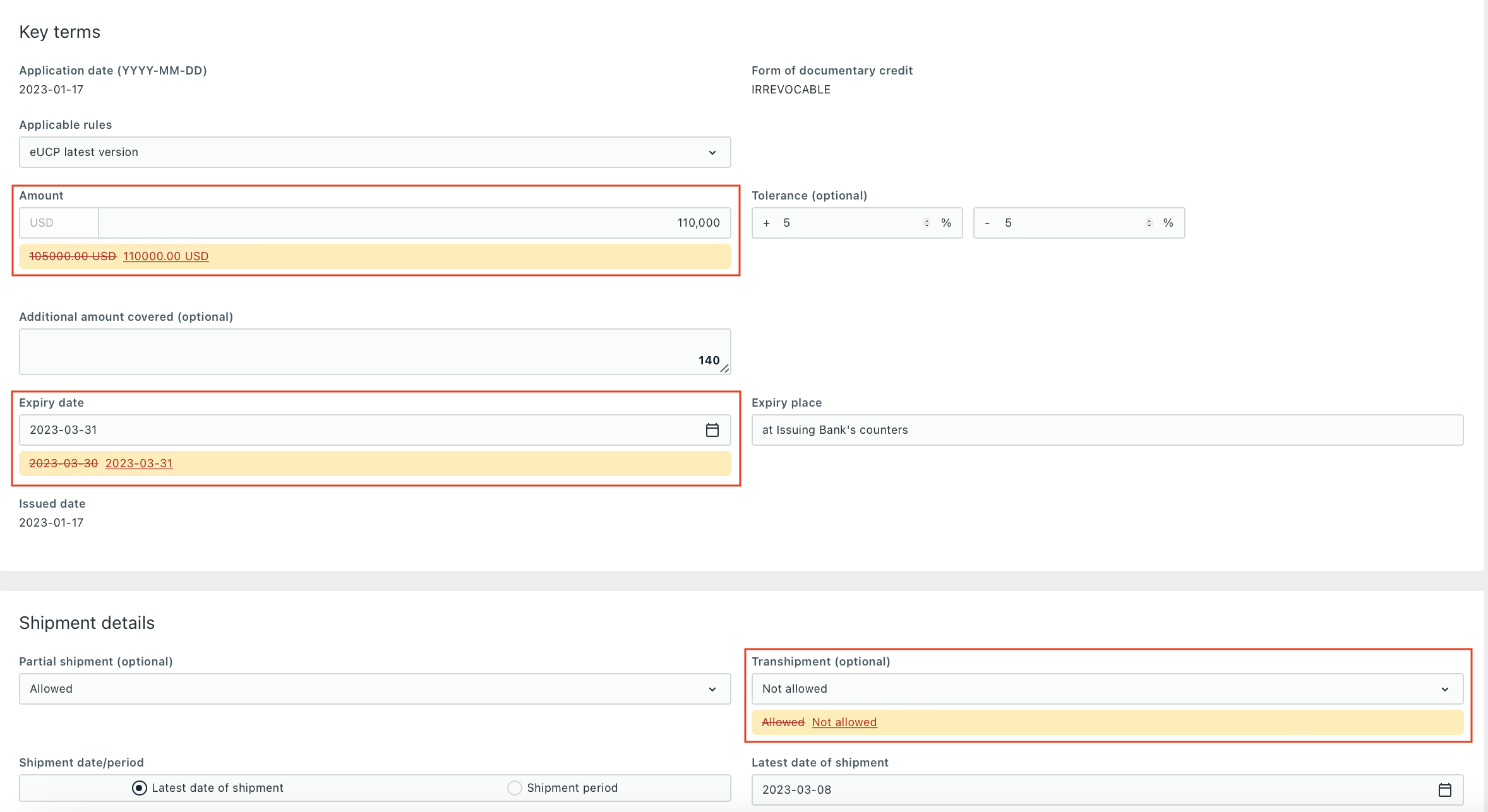 Track changes will appear as below when track changes button is toggled on.

Presentation
Fully reimagined layout for the presentation form. Single page view for an easy drafting and review experience.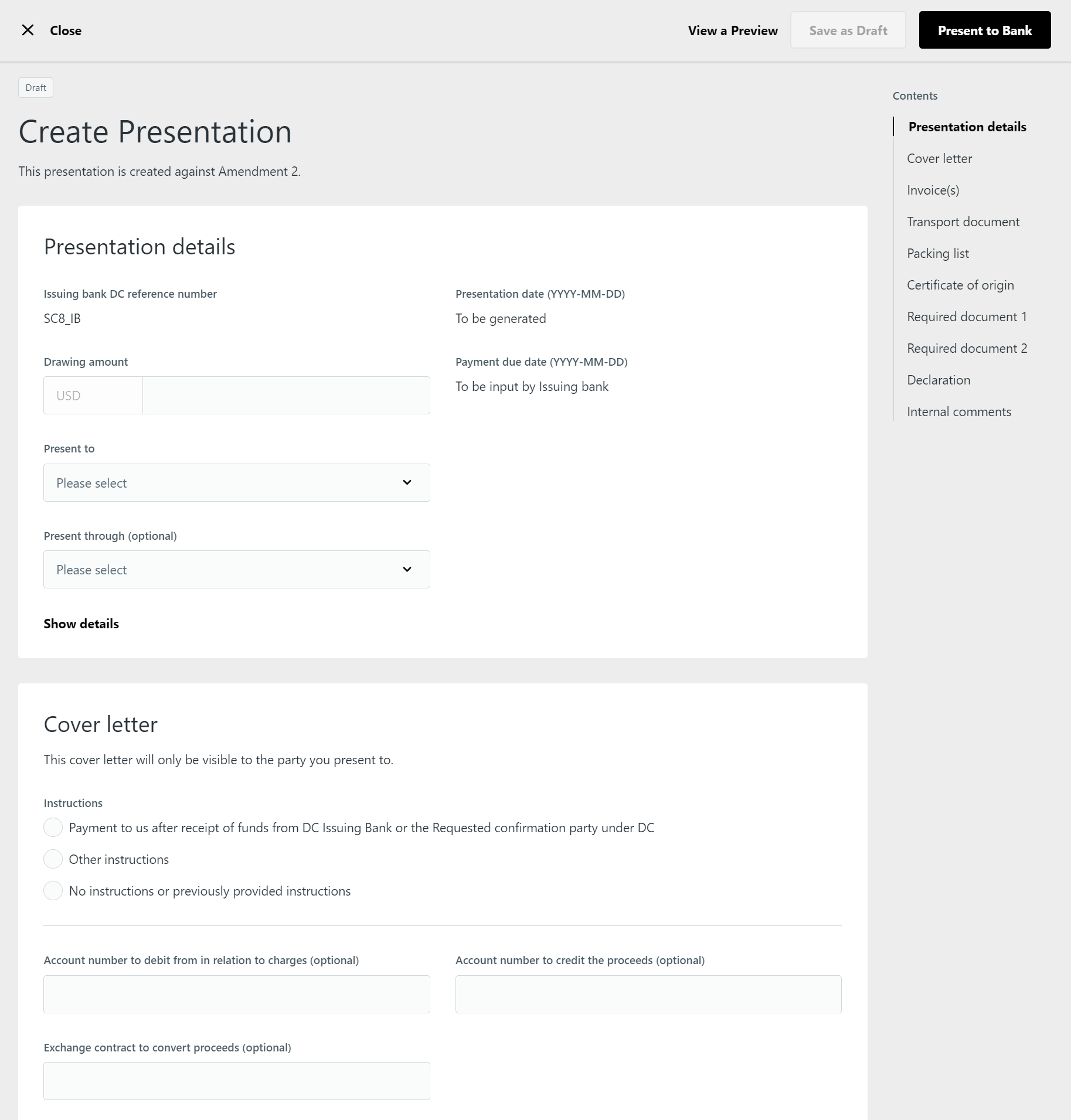 Reason for return
When a bank returns a DC application or presentation, they can now provide reasons for return.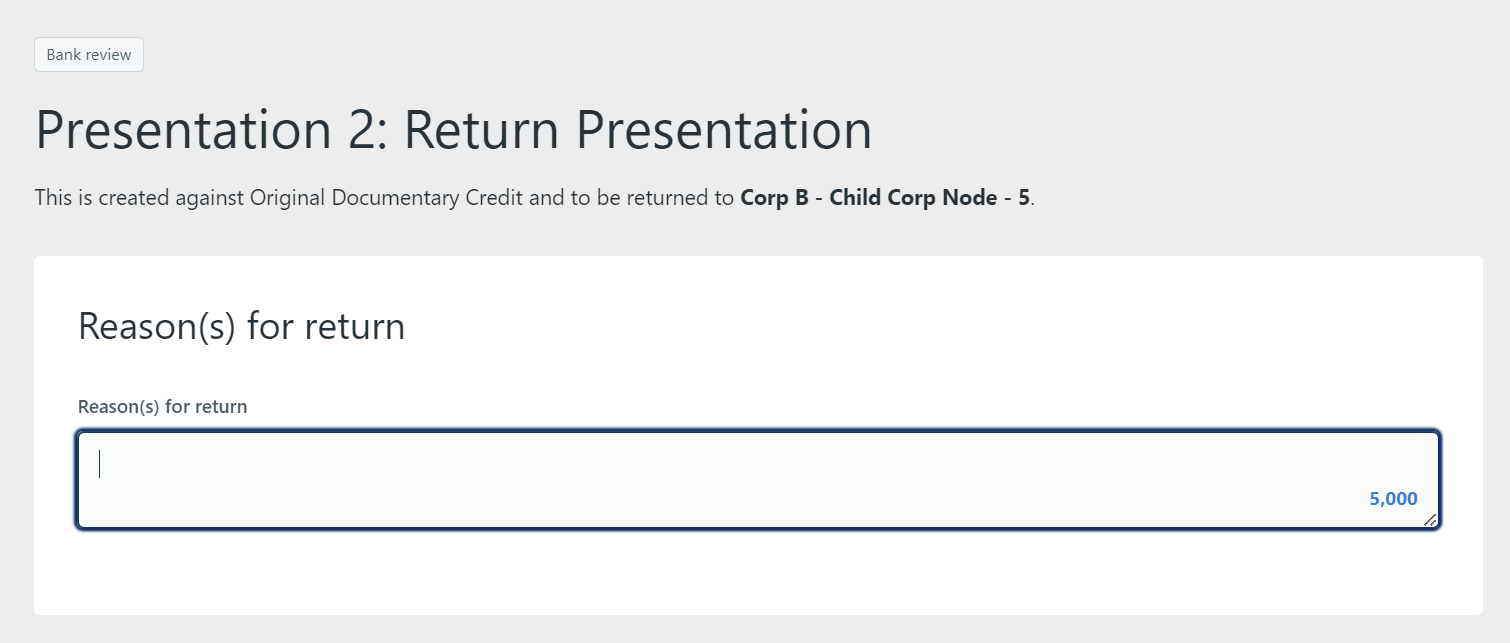 Confirmation Audit log is now visible to all parties
The audit log which captures confirmation being added on a DC is visible to all parties to have clarity that the DC is a confirmed DC.

Attachment Feature is removed in the form during issuance of DC
From 8.1 onwards attaching documents to the application form is disabled and instead can be attached using the Message section to send additional documents to the bank (or any other party).
Messages
P2P Messages is now simply called 'Messages'. All messages for a documentary credit (including amendments, presentations) are now available in a central location, accessible from the DC Overview page.

Bug fixes
Issues fixed in 8.1 are available here